2012  –  Musikens Möjliggörare  I was very honored to recieve this great award from The Society of Swedish Composers. Musikens Möjliggörare is for those who contribute to the success of others in the musical everyday life of sweden. Before, during and after IDKA I've produced long arrays of concerts and festivals with music from sweden and the world. I've had the possibility to commission many works from fellow swedish composers as well as having them staged for first performances. The prize was a great boost for me and a living proof that my hard work is worth it.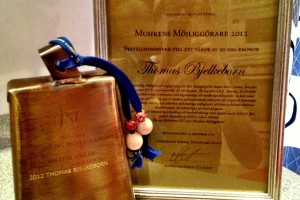 2011  –  Solitude Silence  at Nuit Blanche was a fantastic experience. Michael Larsson (aka Ohsoweird) and myself had a great residency at SI in Paris. Solitude Silence received a big media buzz even before it was premiered and on the day more than 7400 people stood, sat, lay watching us perform continuously for 6 hours. Some people stayed for hours and others just strolled in and out. Most of the night the waiting line was slow and long on the street to get in to the overly crowded yard of SI. Michael and I managed to peek our senses and the experience of the hypersensitive communication between us was surreal. Suddenly it all ended with a totally surprise performance by a young dance crowd who decided to make a improvised show along side of our finale for the night. To sum it up; the stay at SI and the Nuit Blanche night was truly larger than life, it's hidden under a big smile in my heart. More about Solitude Silence.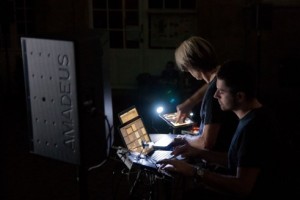 (Glamour) (Vogue) (Libération) (Musikindustrin)
2000  –  IDKA  Together with a group of openminded people I created the Institute for Digital Arts, a unique and free spirited community for the digital arts. Until 2006 I managed this creative space with 200 regular artists under the constant support and inspiration of the regional director of music Kenneth Johansson. IDKA made me touch the sky on numerous occasions and it still surprises me that so many of IDKA's artists managed to go beyond their dreams, reaching far around the globe. A wonderful achievement by these creative people from a rather small corner of the world – Gävle. (But reputation grew as we traveled around to show the IDKA art; Santiago de Chile, Paris, London, Madrid, Bourges, Arc et Senans, Annecy, Manchester, Krakow, Los Angeles………..and many more.)
1999  –  Cybofonen
1996  –  Ballet for Excavators  A groundbreaking ritual for the new building for Museum of Modern art in Stockholm.
1995  –  Touchdown  A celebration for Hultsfredsfestivalen 10 years
1992  –  Ljudion  The worlds first interactive sound exhibition